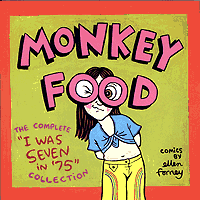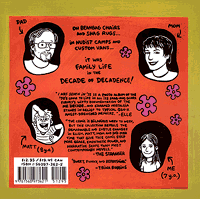 MONKEY FOOD: The Complete "I Was Seven in '75" Collection
Comics by Ellen Forney
Fantagraphics Books
7 1/2" x 7 1/2", 144 pages b&w illustrations
Trade Paperback, $12.95
ISBN: 1-56097-362-5 Pub. date: September, 1999
Breathing some life into the current trend of seventies nostalgia, MONKEY FOOD is sweet, charming, and very funny, free from the mocking irony that mars most "retro" stories in the 1990s. Readers will recognize their own childhood selves in these coming-of-age stories, whether they were '70s babies or not. Based on semi-autobiographical material of growing up in a liberal, suburban hipster "Free to Be...You and Me" family in the '70s, this is a collection of hilarious, light-hearted, and fondly-remembered stories. Storylines include getting caught reading Judy Blume's Forever, family camping trips to a nudist camp, arm-wrestling the second-grade class bully, trying to avoid getting stuck with a regrettable nickname (like "Horny Forney"), how to fake blowing one's nose into one's hands, and the author's perfect moment: when Lindsay Wagner sang "Feelings" on The Bionic Woman.
Nominated for Harvey and Eisner National Comics Awards
"I Was Seven in '75" is a photo album of the '70s come to life in all its shag-rug glory. Forney's witty documentation of the Me Decade... and charmed nostalgia stands in relief to typical Gen-X angst-drenched memoirs." - Elle

"The comic is hilarious week to week, but this collection reveals the remarkable and subtle changes in Ellen, Matt, Mom and Dad over time that give this comic strip more grace, power, and narrative scope than most contemporary novels." - The Stranger (Seattle)

"Sweet, funny, and refreshing." - Trina Robbins, author, A Century of Women Cartoonists