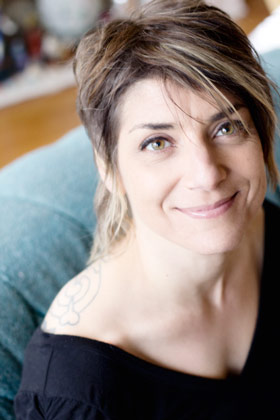 Ellen Forney is an author, artist, speaker, and mental health coach.
Her work includes the New York Times bestselling graphic memoir, Marbles: Mania, Depression, Michelangelo, & Me, the story of her diagnosis and struggle with bipolar disorder, and its companion book, Rock Steady: Brilliant Advice From My Bipolar Life, a mental health guide and the basis for her coaching. Marbles has been translated into six foreign languages, and was selected for campus-wide book programs at the University of Washington and the University of California, Davis. Rock Steady was selected as a Best Graphic Medicine Publication by JAMA (Journal of the American Medical Association). For both books, Ellen was awarded the Media Partner Award from the Washington National Alliance for Mental Illness.
Ellen curated "Graphic Medicine: Ill-Conceived & Well-Drawn," a traveling exhibition on comics and health, for the National Library of Medicine.
Ellen has given talks and lectures at universities, conferences, and institutions, including as a keynote speaker at the Comics & Medicine Conference at Johns Hopkins, George Washington University's symposium on disability, the Women In Medicine Conference, and her TED talk, "Finding balance in bipolar".
As a visual artist, she created two permanent large-scale porcelain enamel murals for Sound Transit's Capitol Hill light rail station in Seattle.
Her work has been published and reviewed in a variety of media, including Washington Post, New York Times, Psychology Today, NPR, and LA Times, among others. She was awarded fellowships from MacDowell, Artist Trust, Atlantic Center for the Arts, and Civitella Ranieri.
Ellen grew up in Philadelphia and lives in Seattle.