Speaking at TEDx Seattle
Speaking at TEDx Seattle
Speaking at TEDx Seattle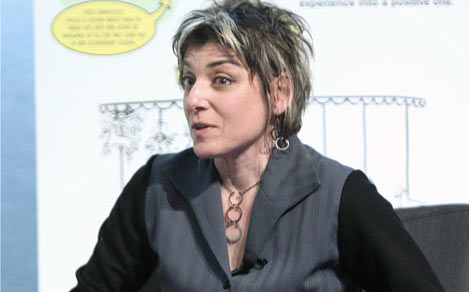 "Ellen Forney's presentation was powerful, engaging, and deeply personal." – JoAnna Schilling, PhD, President, Cypress College
Ellen is a dynamic speaker who connects with audiences of a wide range of ages and interests. She speaks about mental health, bipolar, comics, memoir, and graphic medicine, and also offers a variety of comics workshops. To book or for more information, please email speaking @ellenforney.com
WATCH Ellen's TED talk, "Finding balance in bipolar"
In her intensely personal, funny, and inspiring presentation, Understanding Bipolar Through Comics, Ellen Forney discusses her firsthand experience and creative work on struggling, coping, and thriving with bipolar disorder. Integrating images from her New York Times bestselling graphic memoir,  Marbles: Mania, Depression, Michelangelo, and Me, and its companion book,  Rock Steady: Brilliant Advice From My Bipolar Life, a manual for maintaining mental health, she offers company, encouragement, and coping tools that anyone, with or without a mental illness diagnosis, can use to stay on an even keel.
Ellen's talks are often accompanied by a hands-on comics workshop. With years of experience as a comics instructor at Cornish College of the Arts, she leads participants through the fundamentals of telling personal stories in comics.
Ellen has given presentations at numerous universities, conferences, and other venues, including TEDxSeattle, Philadelphia's University of the Arts, Dartmouth College, and University of Southern California; as keynote speaker at the Comics & Medicine Conference at Johns Hopkins, the John R. Milton Literary Festival, and "The Incredible Intensity of Just Being Human" conference and art exhibition; University of Washington, as part of the Health Sciences Schools' choice of Marbles as their 'Common Book'; "Composing Disability" Symposium at George Washington University, Women In Medicine Conference, Beijing International Literary Festival, San Diego Comic-Con, and many others.
To book or for more information, email speaking@ellenforney.com