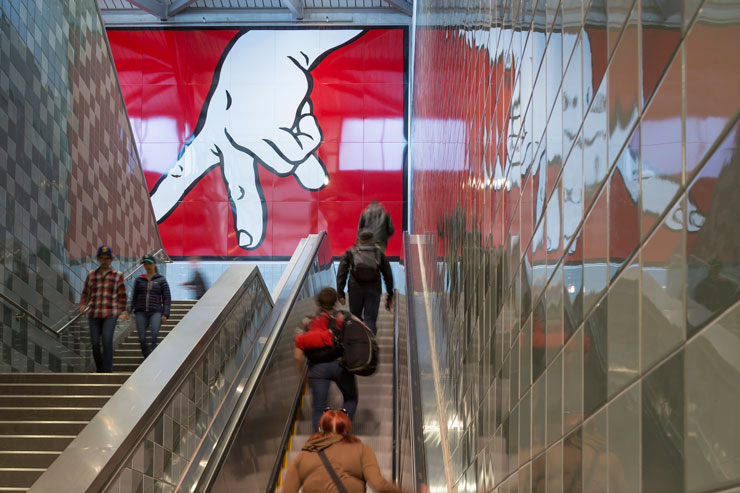 Walking Fingers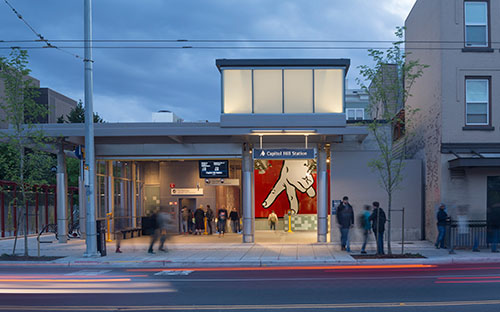 Walking Fingers
Walking Fingers, detail
Crossed Pinkies
Crossed Pinkies
Brush, ink, and digital color
Crossed Pinkies
Walking Fingers
Sound Transit Capitol Hill Link Light Rail Station
Seattle, Washington
2015
Crossed Pinkies and Walking Fingers are porcelain enamel on steel murals in the Sound Transit Capitol Hill light rail station. The murals are in the North and West entrances, on street level and easily viewed by passers-by. Commissioned by Sound Transit and fabricated by KVO Industries, ArtSite's installation was completed in Dec 2015. Photos 1–4 by Lara Swimmer.
Crossed Pinkies, 10' high x 40' wide, is in the North entry, at the busy intersection of Broadway and John. A seemingly simple hand gesture with many different meanings, the image lends a sense of coming together, balanced by a slight tension of pulling apart.
Walking Fingers, 28' wide x 20' high, is in the West entry, adjacent to Seattle Central Community College. The fingers in this playful hand gesture lead the entering passenger's eye down the stairs to a pedestrian tunnel; the departing passenger is guided to ascend to street level.
The hands have personality, a sense of movement, universality, and vivid color, but no specific character, gender or race, allowing the images to be both vivid and broadly welcoming.
The original ink drawing's brushwork is enlarged approximately 14 times, transforming the lines into voluminous shapes. The luster and graphic quality of enamel on steel complements the bold lines and vivid colors of the artwork, and the rich, saturated red enamel has a transparency that causes it to change with the light. The glints along the edges of the color fields are caused by "trapping," or the slight overlapping of the enamel layers, resulting in added dimension and subtle evidence of its fabrication with hand-sprayed stencils and silkscreens.