I spent most of Saturday working on the new paintings for my upcoming art show, "Big Fuckin' Hands":
It'll include two of the three 4′ x 4′ paintings I did for the Seattle Erotic Art Festival, and six new 2′ x 2′ paintings in the same style. The large ones are hand gestures that suggest (whisper this:) S-E-X (above and in my March 26 post) and the smaller ones are actual positions, minus the body parts they would be stimulating. Here's one I'm in the middle of: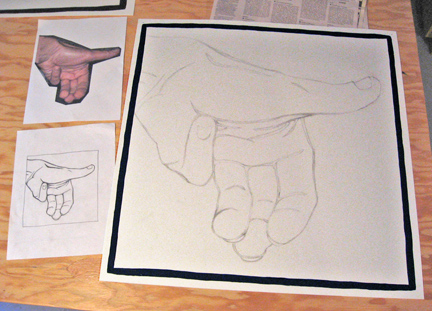 That would be: a photo of a woman-jacking-off hand position, and my sketch (no, I don't trace) and the enlarged version on Sintra (yes, I use a projector). I'll be painting the linework in black, and the background in red. It's matte acrylic, so it looks like a silkscreen.
The show's going to be at Liberty, a fabulous bar in my fabulous neighborhood. Liberty has a lot of light, gold walls, and track lighting, so I think it could really look pretty great. So mark your calendar: the opening is on Wednesday, June 20, 6 – 8pm. Liberty is at 517 15th Ave. E., at Republican, and I'm betting Andrew will run some drink specials.