So nice to be working out the little details! A few days ago, I got some test pages from Gotham so I could check the brightness of the paper and the darkness of the ink. I'm a geek, I love that stuff. Here's a run-down of recent Marbles-related news and reviews:
Marbles: Mania, Depression, Michelangelo, and Me
A graphic memoir by Ellen Forney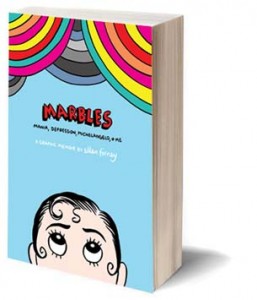 Gotham Books (A member of Penguin Group USA Inc.), 256 pages (yeah, that's right, yo! I think my previous record was like, 4). Release date: Nov. 6, 2012
Official website:  marblesbyellenforney.com (designed by Jake. It formats itself differently depending on what gadget you are using. Fancy!)
I just got a starred review from Publisher's Weekly:
"Witty and insightful . . . Beginning with the manic episode that led to her diagnosis, Forney chronicles her journey toward reconciling the dual natures of bipolar disorder: a dangerous disease, but also a source of inspiration for many artists. The long journey of medication and therapy is kept from gloom by Forney's lively, likable cartooning. . . Readers struggling with their own mania or depression will find Forney good company, and others searching for insight into the minds of troubled artists will find Forney an engaging storyteller." Full review here.
and a starred review from Kirkus Reviews:
"For anyone who loves graphic memoir or has concerns about bipolar swings, creativity and medication, this narrative will prove as engaging and informative as it is inspirational. . . Not only does [Forney's] conversational intimacy draw readers in, but her drawings perfectly capture the exhilarating frenzy of mania and the dark void of depression." Full review here.
I was honored with a Stranger Genius nomination for literature, and Marbles was chosen as one of BookExpo America's "Hottest Graphic Novels of 2012" and as one of Publisher's Weekly's "Top Ten Comics & Graphic Novels of Fall 2012":
"Ellen Forney's Marbles: Mania, Depression, Michelangelo, and Me: A Graphic Memoir is a funny yet harrowing account of her battles with bipolar disorder, from her diagnosis to various trials with medication, as she struggles to get her life in order while maintaining the creative flow she fears may be tied up with her illness. Forney's perceptive, lively art keeps the story fresh."
Keep an eye out for my events in November! And, exciting: the launch will be Sat., Nov. 10 at 7pm in the Microsoft Auditorium (yay!) at the Central Library downtown.