My hair stylist Michael got tickets from a music industry client and took me to see Devo last night at the Paramount. It was a totally awesome concert and the band was hyped up and looked like they were having a great time. It made me think of my best friend in high school and that I really have to get in touch with her, and that it's fine to retread old material if it's good and you can do it well. Michael and I were both dancing in our seats.
My friend Shawn Wolfe knows the bassist, Jerry Casale, and I got to join them afterwards for drinks and food. Big long table and I was all the way at the opposite end, but I ambled over and shook his hand, and told him that I saw Devo when I was in high school and he yelled at and then spit on someone in the audience. This cherished experience had given me punk cred in my own bookish/artsy mind, but he insisted that it wasn't him, that it was probably Bob Mothersbaugh. No matter. We chatted about art.
I gave him a postcard for my upcoming I Love Led Zeppelin show ("here's what my work looks like"), which has my "Slitlicker" graphic where the postage stamp goes, which he thought was amusing:

which is why we look like this in the inevitable photo session at the end of the evening: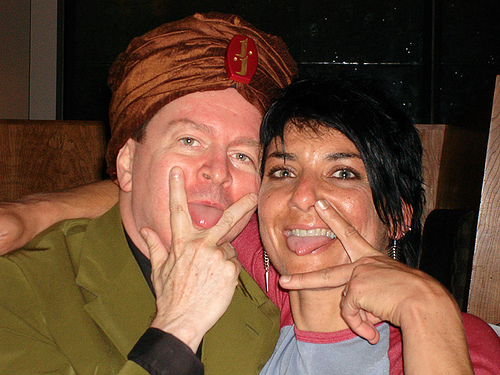 Some Kama Sutra sideways thing from me there, I don't know. His turban is on account of his current Jihad Jerry persona, involving his new blog and CD and abundant political ranting.