Megan and I did our show again at Rocketship last night, and it was a BLAST. What a great crowd! Attendees included cartoonists Lauren Weinstein, Jessica Abel, Matt Madden, Tom Hart, Gabrielle Bell, and Jen Camper, Nickelodeon Mag's comics editor Chris Duffy, DC Comics editor Joey Cavalieri… lots of friends and writers and editors and up-and-coming cartoonists, actually, and my lo-o-ongtime friend Nathaniel, who stars in "My Date With Camille Paglia." Many thanks to Mary and Alex for hosting!
Outside the store (I'm posing next to a poster with Megan's and my book covers):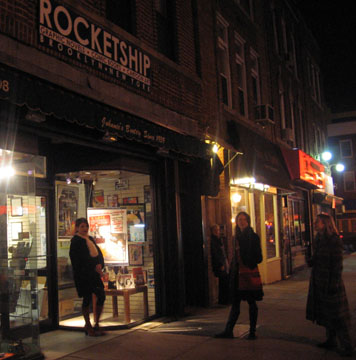 :
Unfortunately, all the photos of my show came out too dark. During the Q&A, though, people cuddled, I patted my tummy, and Megan waved her hands around.
My new boots.