The I Love Led Zeppelin show last night at the Wildrose was a fucking blast! A boozed-up audience really helps with the laughing and whistling, I think. I'll have to encourage people to bring discreet flasks to my bookstore shows. Many thanks to Broch of Seattle Spit (monthly queer open mic night) for inviting me and to the Wildrose for hosting.
My good friend Ariel's good friend Ben took a bunch of photos (you can check out all of them here). The show begins (to the tune of Black Dog):
.
"Seattle's Erotic Landmarks": everyone's favorite, the Magic Pussy:
.
"My Date With Camille Paglia" (that's a "telephone" there, my right hand):
.
I am a professor, #1: Seattle Spit's thank-you gift to me (can you believe the world is selling easter shit already??):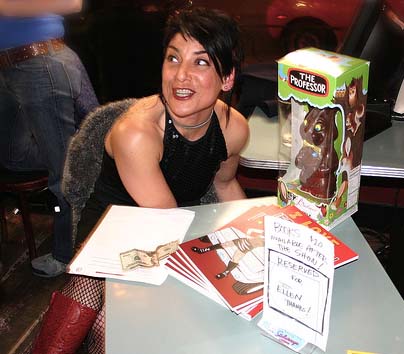 .
I am a professor, #2: signing a book for Matthew, a student of mine at Cornish: