The Henry Art Gallery threw their big annual benefit bash this past Friday night. Costumes, stage shows, cocktails, and mega ART. Massive party. Space-themed, so lots of silver, lots of deely-bobbers, a number of laser guns.
I sat at the end of the bar and drew cocktail napkin portraits. I *intended* to take breaks but by the time I was getting tired, the line was enormous and all I could do was tell the last person to turn everyone else away. It still took me the rest of the party to finish the line. I asked one of the last people how long she'd been waiting.
"Two hours."
No, you're kidding, really, how long?
She nodded. "Two hours."
Her boyfriend cut in. "Well. An hour and a half, hour forty-five." For me to draw her face on a napkin. (Can I just pause here a moment??)
—
Earlier in the evening – drawing Julie's portrait (happy anniversary, Julie and Christian!!):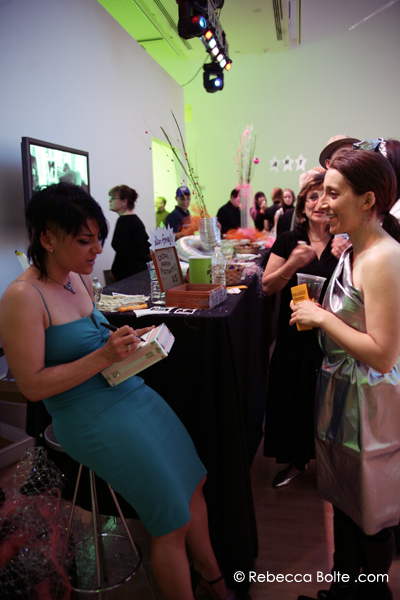 Sean poses x2:
(photos by Kelley McIntyre)