On Friday night, I visited a comics class at Evergreen, which was a blast – talked about me and my work, waved around some books and magazines that have my comics in them, and fielded a lot of excellent questions. Jim Blevins (the prof) should be proud, they were awesome.
Olympia Comics Festival: sweet! fun! super-super nice people. Brief, though – I didn't really have a chance to walk around and meet the peeples and look at everyone's comics. I did get a stack of mini-comics from people who sought me out, though.
I totally forgot to take any photos, so these are from cartoonist David Lasky:
Ivan Brunetti, the other guest of honor, is interviewed by Frank Hussey, the festival's organizer: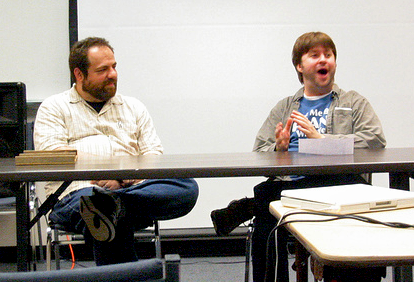 At the end of the Fest, there was a stage show, with a 70's-vintage cartoon, a couple of interviews, and a skit, plus I did my I Love Led Zeppelin show at the end. It really works best that way, I think, with a huge screen and a spotlight.