This woman said that she likes "dark" artists like Odd Nerdrum, Zdzislaw Beksinski, and Joel-Peter Witkin. Another never-used reference book! I pulled out my collection of creep-o Witkin photographs and painted, scratched, and blotted my way through this week's cartoon.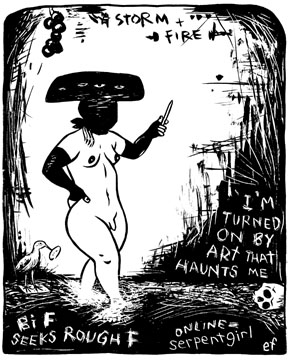 LUST, the "Lustlab Ad of the Week" book collection, is out and on the shelves! If you're in Seattle, please come to the LUST book release party at the Fantagraphics store on Sat., Feb. 9, 6pm – 9pm — or you can order it here directly from the Fantagraphics web-catalog.
"Lustlab Ad of the Week" is a comic adaptation of one of the week's kinky personal ads in Seattle alt-weekly The Stranger, and I post them here every Wednesday. See it on their site here.