I tried to use Greek (and "Greek") lettering for the whole ad, but it was really incomprehensible. It was pretty entertaining to write out, though.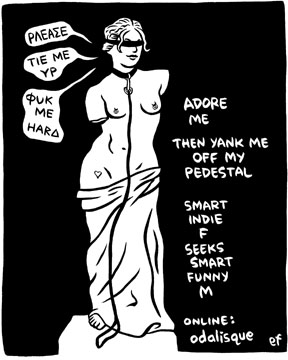 LUST, the "Lustlab Ad of the Week" book collection, is out and on the shelves! If you're in Seattle, please come to the LUST book release party at the Fantagraphics store on Sat., Feb. 9, 6pm – 9pm — or you can order it here directly from the Fantagraphics web-catalog.
"Lustlab Ad of the Week" is a comic adaptation of one of the week's kinky personal ads in Seattle alt-weekly The Stranger, and I post them here every Wednesday. See it on their site here.