Mom, Dad, yes I exist! I'm swamped: finishing up the annual report for the Seattle Public Library, working on public art for the light rail station in Capitol Hill, writing my book proposal, finishing end-of-the-semester stuff (grading papers: yuck), getting together various comics and commissions and presentations, and bracing for the Emerald City ComiCon this Sunday. I'll call you when I find the phone, I promise!
In the meantime:
My interview with Canadian TV show SexTV aired a week ago, and they have an excerpt on their site (below I am doing the "bunny ears" quotation marks, not miming something pervy):
… and here are the most recent Lustlab Ad(s) of the Week(s):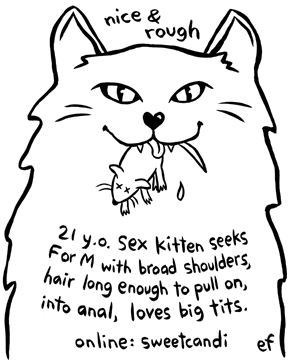 LUST, the "Lustlab Ad of the Week" book collection, is out and on the shelves! You can order it here directly from the Fantagraphics web-catalog. "Lustlab Ad of the Week" is a comic adaptation of one of the week's kinky personal ads in Seattle alt-weekly The Stranger, and I post them here every Wednesday.