It's always fun to do a Stranger cover because for a week, I get to see my work everywhere: strewn in cafes, tucked under arms, crumpled in the gutter. I didn't think the art director would let me do another cover so soon (my last one was in September) but I guess I made a good case for it. (As I recall, it was something along the lines of "Pleeeease??!")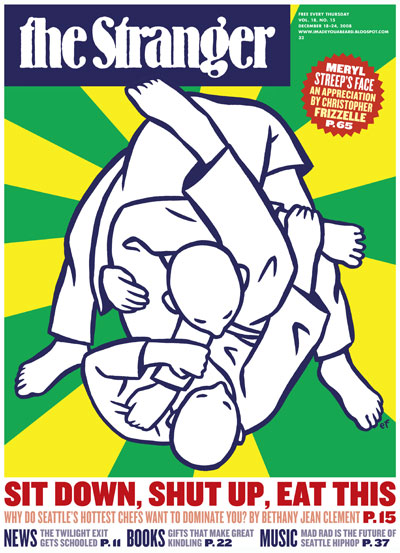 "Triangle Choke, or Ballard Brazillian Jiu-Jitsu Alliterates Artfully" (an admittedly tortured shout-out to my school, Ballard BJJ. "Alliterates Artfully" -??)
A few people have asked how many covers I've done. My first was in 1993 – it was also my first paid job as an illustrator – but after that I wasn't sure. So I decided to go through my archives, and rounded up nine. I'm pretty sure I got all of them, but by "my archives" I mean a variety of ripped folders, overstuffed envelopes, and plastic sleeves. Back in the creaky ol' mid-nineties I still used to hand in my originals, and in a fit of organizational pique several years ago I threw out my yellowing copies of the newspapers. (Geeks: remember cutting rubylith?)
Here's what I have, starting with the most recent: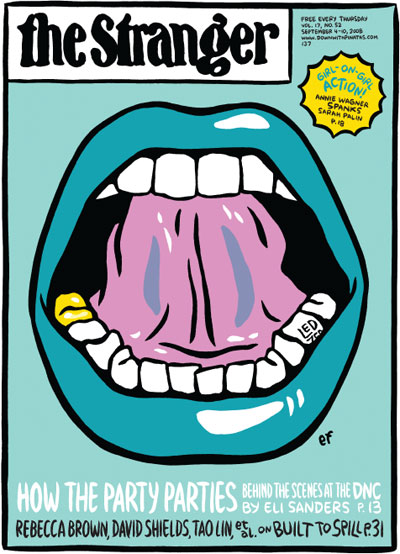 September, 2008. This is my mouth.

July, 2007. "Two Fingers" is a painting in my "Big Fuckin' Hands" series.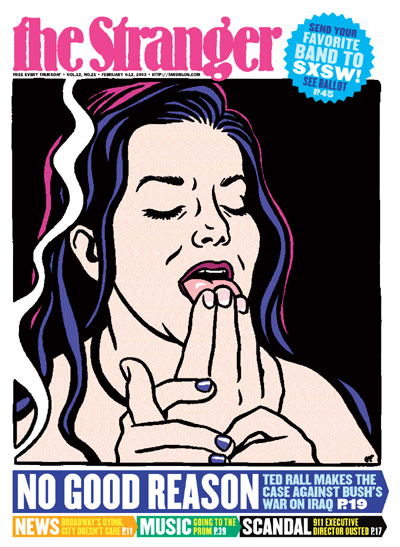 February, 2003. This image is also the cover for Best Erotic Comics 2008 (Last Gasp), which, interestingly, is featured on BoingBoing right now.

March, 1998. I could only find the artwork for this one. (I remember drawing it around the time of my 30th birthday, though. International Women's Day = my birthday, March 8.)

April, 1997, collaboration with Shawn Wolfe. I did a drawing of my friend Gwen holding an object (I had her hold a sleeping bag, then removed the sleeping bag and had her hold the pose) and Shawn did the rest.

November, 1996. This was also a t-shirt.

March, 1996. Another International Women's Day cover. (Note that the usually-phallic rockets look like breasts. Thank you, you're welcome.)

November, 1995. Eleni (on the right) made that corset.

March, 1995. The newspaper was going through a redesign so the theme was "change."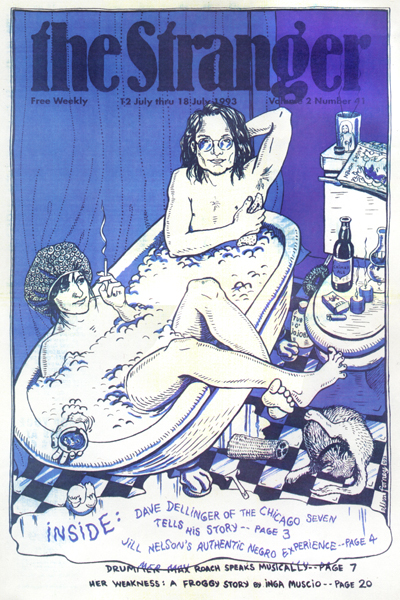 July, 1993. I did this when the Stranger was still based on the top floor of a house in Wallingford, which makes me one of the o-o-old timers.