I had an awesome bunch of budding cartoonists in my classes at Cornish this summer. The Session 2 class's final minicomics and original work will be on display today between 2:00pm – 7:00pm on the Cornish campus, in a big performance/exhibit extravaganza of all the summer classes. Every year, I am blown away by their work. You will be like, wow, these are teens?
My fabulous class with their minicomics in front of their final exhibit: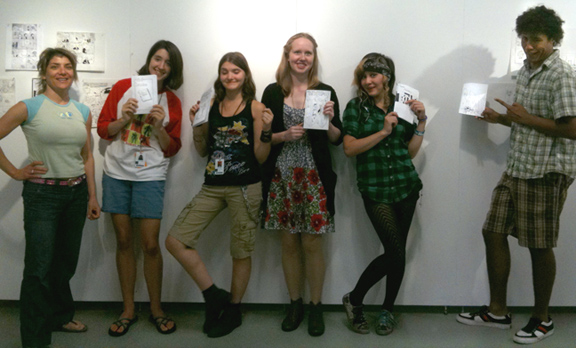 Here's the schedule online and after the jump.

This Friday, August 5, from 2 to 7 pm, Cornish College of the Arts is pleased to present an exhibition and performance of work by Summer at Cornish program participants.
Summer at Cornish is an exciting intensive visual and performing arts experience for students ages 15 to 18 who want to explore the arts in a professional art school setting. Participants immerse themselves in art–making, dance, music, and performance to become part of a creative community, meeting and working with other talented artists from diverse backgrounds and disciplines. These students have been working hard and wish to share their work with the Seattle community. We invite you to attend this afternoon exhibition and performance to enjoy the work of these emerging artists.
All events are free and open to the public.
SCHEDULE
2-5:30 pm: Art + Design exhibition, Cornish Main Gallery
2-3 pm: Theater performances, Room 109
3-4:15 pm: Dance performances, Room 109
4:30 pm: Congratulatory remarks by Dr Lois Harris, Provost and VP of Academic Affairs, Cornish Main Gallery
5 pm: Guitar Master class concert, PONCHO Performance Hall
7 pm: Rock Project concert, PONCHO Performance Hall
Locations:
Cornish Main Gallery and Room 109, 1000 Lenora St., Seattle
PONCHO Performance Hall, 710 E. Roy St., Seattle