Dude, what a show!! It was already sold out Thursday morning!
The show started out with Sarah Rudinoff and Christopher Frizzelle doing a genius, hilarious dance routine to Stairway to Heaven, including invoking an awkward school dance, freaked-out air guitar-playing, and crowd surfing. Then Miss Indigo Blue's first number, her charming Wonder Woman routine.
Next up, my multimedia performance: me narrating from stage-right in front of video adaptations of four of my comics: "The Final Soundtrack" (a fantasy about death, glamour, and Led Zeppelin), "Seattle's Erotic Landmarks," "My Date With Camille Paglia," and "How to Be a Fabulous Fag Hag" (based on an interview with Margaret Cho). My genius animator friend Matt Rodriguez of Plexipixel put together the eye-poppin' visuals and ear-smackin' audio. I wore a full-length sparkling gown, and I was VERY excited to finally wear my new Fluevogs.
Then oh my god, people are still talking about this: Miss Indigo Blue did a new routine to The Lemon Song, and it was fucking brilliant. She started out in a Sunday-finest yellow dress, hat, and heels, with a table of lemons, a pitcher with lemon slices, and some stemmed glasses. Before long she was down to her heels, panties, and tasseled pasties, squeezing lemons down her front (and natch, down her leg) and catching the juice in glasses, delicately adding sugar water from the pitcher, and serving the lemonade to enthusiastic audience members. Then she took the pitcher and – will she really do it? – poured the lemonade all over herself and in her hair! And then! when the music got high energy at the end, she yanked off her heels, flung them across the stage, and stomped around barefoot in the big puddle on the stage and whipped her wet hair around in a big arc, and twirled her tassels furiously. And the song ended, and she retrieved her shoes and tipped them to her mouth, smiled at the audience, and strolled offstage. I was in the booth at that point and I was just howling.
And then I thanked our sponsors (Fantagraphics Books, Gary Groth, Kim Thompson, and Eric Reynolds; The Stranger, Caroline Dodge, Mike Nipper, and Kelly O; Miller Beer, Kerri Harrop; Vera Project; Plexipixel), Northwest Film Forum, Adam Sekuler and Nick Vroman; my co-producer Larry Reid, and all the performers; and then introduced the totally entertaining Zeppelin tribute band, No Quarter. And No Quarter played, and everyone hung out in the lobby and drank beer, and Nipper deejayed, and Eric sold books and I signed them, and Indigo Blue sold panties and pasties, and it was good vibes all around.
Some photos Kelly O took of the party after the show:

Signing. (No, I do not write "Keep on rockin'!" in people's books.)
*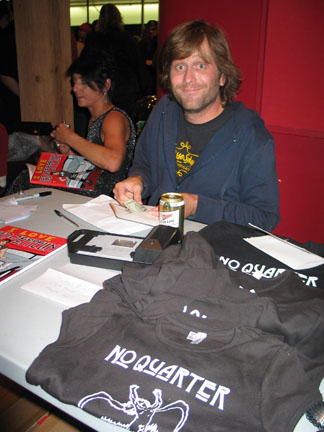 Eric Reynolds, money, beer, merch.
*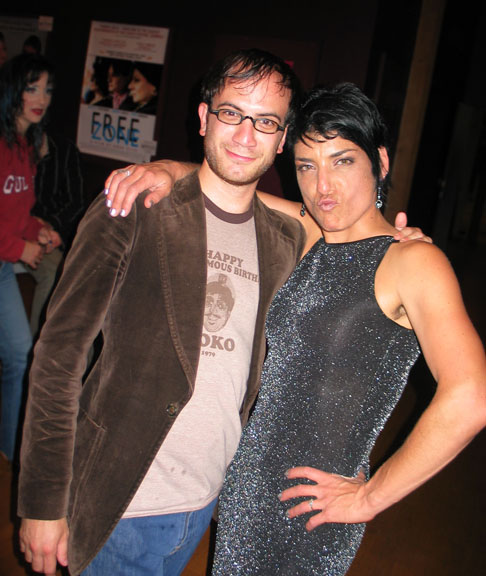 With Adam Sekuler, Northwest Film Forum's Program Director (in velvet!)
*


Miss Indigo Blue (hair still wet from pouring lemonade all over herself). I drew her logo, it's in the introduction of my book.
*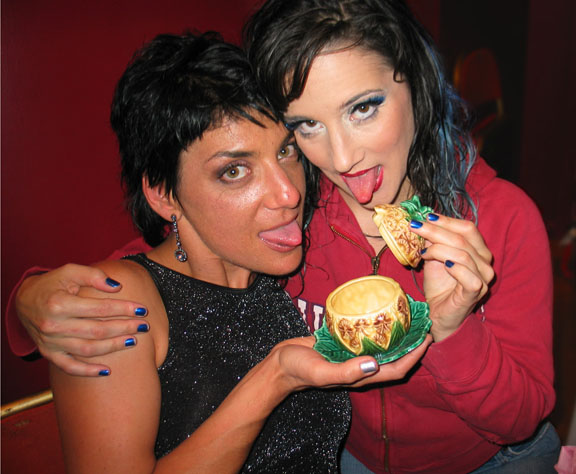 She brought me a present, a pineapple sugar bowl. She found it in Provincetown. It matches my pineapple teapot.
*

New shoes.
*


Larry Reid, my co-producer.
*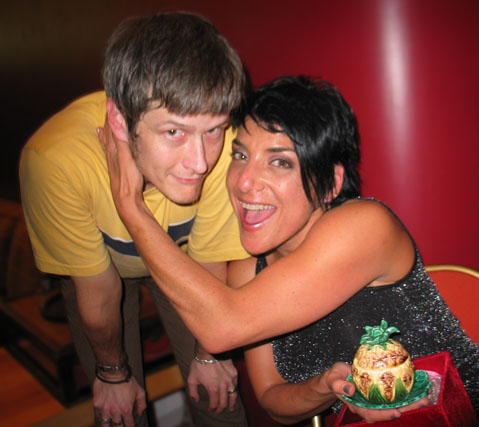 Mike Nipper was a very groovy DJ, made a very groovy party.
*

The stairs to Nipper's DJ perch, with Holly and Dre. Rock, paper… hey, that's not scissors!
*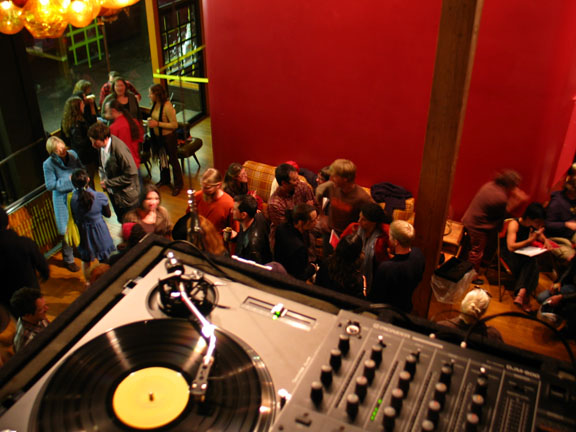 Nipper-eye view